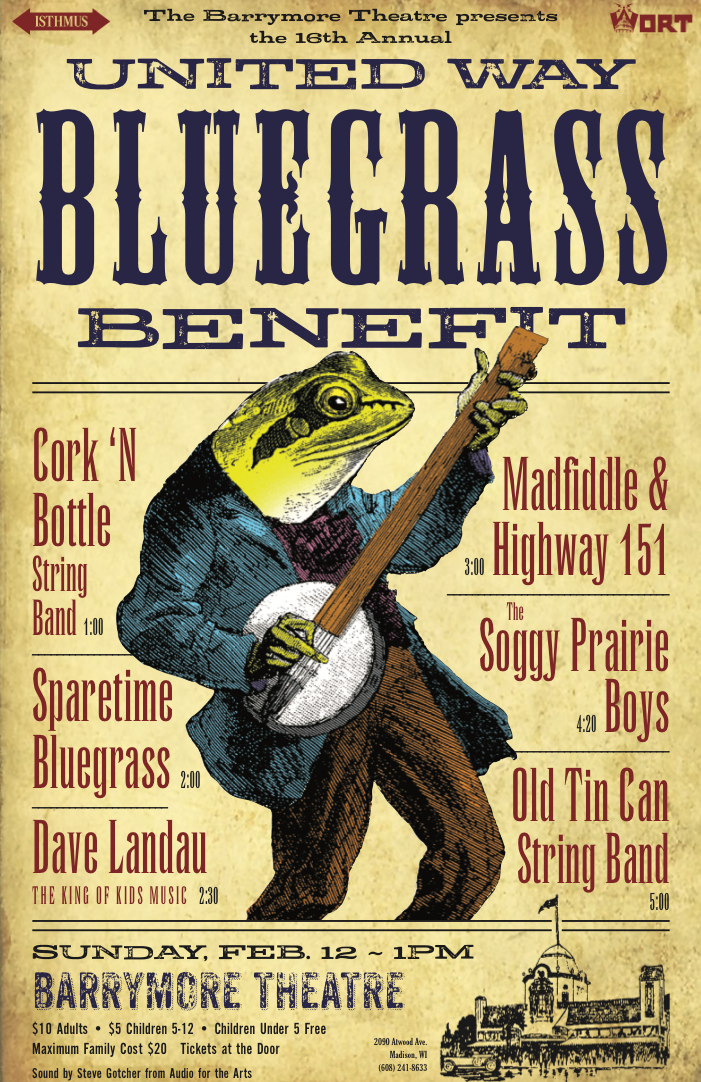 Looking for a family-friendly way to celebrate Valentine's Day? Come to the Barrymore Theatre at 1 p.m., February 12th, for the 16th Annual United Way Bluegrass Benefit. Six bands and performers are volunteering their time and talents with all proceeds going to United Way of Dane County. Longtime United Way advocate Dave Kinney has organized this concert since its inception.
"This is a wonderful opportunity to bring your entire family to a fun and entertaining event while giving back to our community," said Kinney. "I'm proud of the positive change United Way brings to our community and I love that I can contribute to that change with this concert."
Over the last 16 years, this annual concert has grown in popularity among bluegrass fans and families who are looking for kid-friendly activities. Thank you to Barrymore Theatre, Steve Gotcher (Audio for the Arts), WORT 89.9 FM and Isthmus for their partnership.
Tickets are $10 for adults and $5 for children ages 5 – 12. Children 5 and under are free. For families, there is a maximum cost of $20. Tickets are available at the door and online.
Program of Performers
Cork 'n Bottle String Band 1:00 p.m.
Sparetime Bluegrass 2:00 p.m.
Dave Landau – The King of Kids Music 2:30 p.m.
MadFiddle & Highway 151 3:00 p.m.
The Soggy Prairie Boys 4:20 p.m.
Old Tin Can String Band 5:00 p.m.