Spruce Tree Music & Repair first opened its Madison shop at 851 East Johnson Street on December 1st, 1980. That was 36 years ago and the store is still going strong. Stop in this holiday season to say, "Happy Anniversary!" and discover gorgeous gifts for the musicians in your life. Here are just a few of the things you'll find.

Spencer Walts created the graphic for these 100% cotton (preshrunk) t-shirts. Available in Rusty Bronze, Cactus Green, and Pine Green, Medium, Large, XL and 2XL. $16 each ($18 for 2XL). Shipping for 1-2 shirts is $6.95 via USPS Priority Mail (within the U.S.).
Spruce Tree Posters
This Hatch Show Print was made to celebrate Spruce Tree's 30th Anniversary. Hatch Show Print is a Nashville company that's been designing and hand-printing posters since 1879. Measuring 22-1/2 x 13 inches, this 3-color poster is printed on smooth cardstock, and is $5.95.
Spruce Tree's 25th Anniversary poster. It measures 19 x 13 inches and is $5.95.
Fraulini Guitars
Fraulini Guitars are built by Todd Cambio in Madison, Wisconsin. Todd's guitars follow the construction details, cosmetic appointments and tonal qualities of guitars built in the 1920s and 1930s. Construction methods include dovetail neck joints, varnish finishes, handmade wood purfling and hot hide glue.
Linus Guitars
Linus Guitars are built by Brian Bauhs, known in Madison for being the lead guitarist of Marques Bovre and the Evil Twins. Brian also worked at Spruce Tree Music doing instrument repair work. He now lives in Brooklyn, NY, where he has become increasingly involved in building guitars (as well as the occasional ukulele).
Diamond Bottlenecks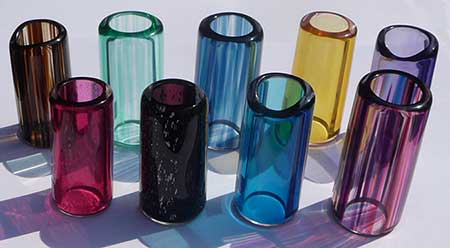 Made in England of hand-blown leaded glass, Diamond's Ultimate slides are fun to look at and produce a clean tone with plenty of punch when you want it. No two bottlenecks are identical. $35
Rickard Banjos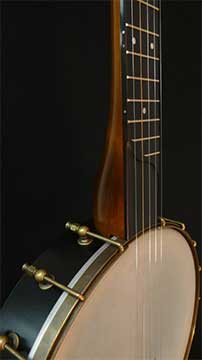 Rickard Banjos are built in Aurora, Ontario. Bill Rickard is a long-time banjo enthusiast with an engineer's understanding of metalwork. Consequently, his finely crafted banjos are built with high-grade hardware that is entirely manufactured in-house (tuning machines being the small exception). The wood components are built with the same diligent attention. These instruments are part of a renaissance in open back banjos. They're solidly made, built with an eye toward seeing (and hearing) them played throughout the next 100 years.
To see more of Spruce Tree's stunning hand-made instruments and accessories, visit http://www.sprucetreemusic.com/.
written by Jennifer Phistry